By Justin Gardner | Related entries in
Barack
,
Democrats
,
Hillary
,
Polls
Two days in a row, Obama has stayed at 50%.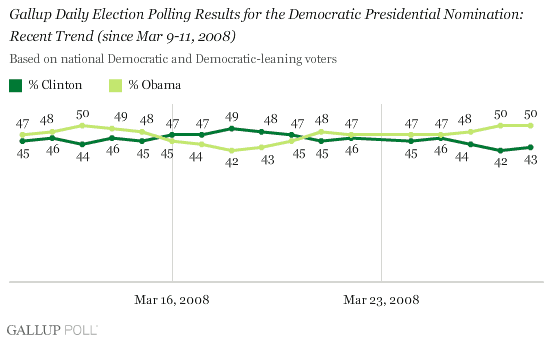 The last time Obama sustained a significant lead over Clinton for more than one day was in late February and early March, just before Clinton won the Ohio Democratic primary and regained her footing in the race.
This once again points to the Wright controversy waning and Hill's Bosnia gaffes hurting her.
This entry was posted on Saturday, March 29th, 2008 and is filed under
Barack
,
Democrats
,
Hillary
,
Polls
. You can follow any responses to this entry through the
RSS 2.0
feed. You can
leave a response
, or
trackback
from your own site.