By Justin Gardner | Related entries in
Barack
,
Democrats
,
Hillary
,
Polls
Just today, Pew showed a 13% gap between the two…so the double digit lead seems to be consistent in a few different levels. Still, Saturday will be very important to Clinton's future…and maybe voters are starting to realize how grim the picture is for her?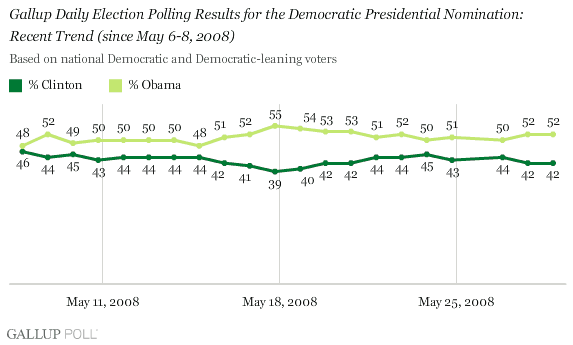 In Gallup Poll Daily tracking from May 27-29, Obama has a 10-point advantage over Clinton in national Democratic preferences, 52% vs. 42%. This is identical to Thursday's tracking report, and represents the continuation of a two and a half week stretch during which Obama has nearly continuously held a significant lead.
More tomorrow…
This entry was posted on Friday, May 30th, 2008 and is filed under
Barack
,
Democrats
,
Hillary
,
Polls
. You can follow any responses to this entry through the
RSS 2.0
feed. You can
leave a response
, or
trackback
from your own site.